The buds are appearing on the trees and spring bulbs are blooming. There's cute baby animals everywhere you look. Spring is the season of new beginnings – and that makes it the perfect season to get on board with these Spring date ideas!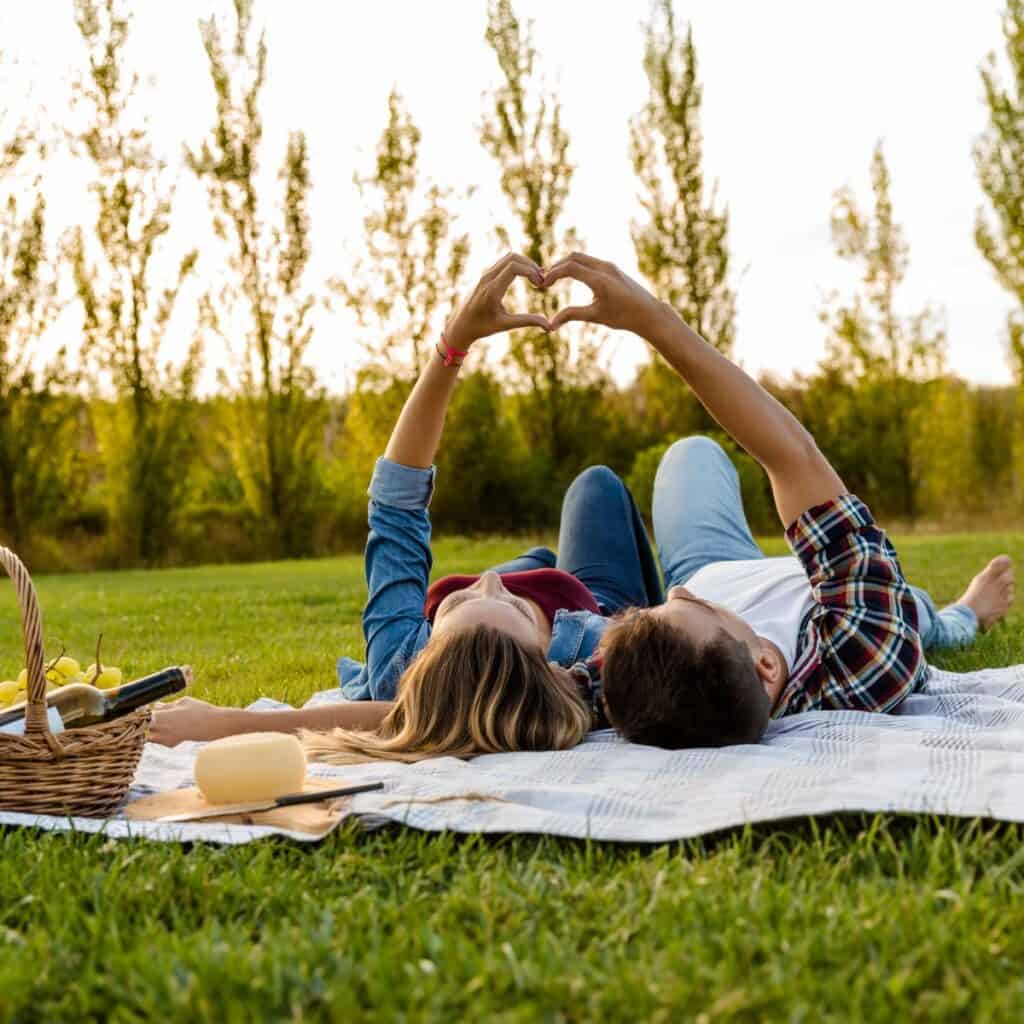 This post contains affiliate links. If you click on one of these links and make a purchase, I receive a small commission at no cost to you. Click here for my full disclosure policy.
Fall is my favorite season. I love the chill air after the heat of summer, the changing color of the leaves, the darker and cozier nights which lend themselves to some fun date nights at home.
But my next favorite season would have to be Spring.
The buds are appearing on the trees and spring bulbs are blooming. There's cute baby animals everywhere you look.
There's just so many fun things to do in Spring!
It's also the season of new beginnings – and that makes it the perfect season to get on board with date night.
You might also like: Date night ideas for married couples.
Want greater connection in your relationship?
Then you'll want this freebie.
It's called The KISS Connection and it's a FREE 4-step everyday practice that will bring back that loving feeling.
Hit the pink button to grab your free copy today.
Free spring date ideas
These free spring date ideas make the most of what spring has to offer, both in the natural environment, and also with some distinctly man-made concepts, all while costing you nothing!
Spring bulbs are the best! Find a daffodil field and enjoy the beauty of these flowers when they're in mass plantings
Find a free outdoor concert, grab your rug, and go listen to the music
Go on a hike. Stretch out the winter blues and get active
Go for a walk along the beach, river, or lake front. Remember to wear layers because it can still get cold
Join a fantasy baseball league (that will keep you busy all season!)
Have a spring photo competition – take a pic that captures the essence of spring
Take a Frisbee to the park and have a game
Start training for a 5km run – knowing you can get all the benefits of being outdoors and not have to suffer the monotony of the treadmill
Get started on spring cleaning with a declutter date: choose a part of your house to work on together
Celebrate the Spring Equinox (in 2022, around the 20th of March in the Northern hemisphere and the 22nd of September in the Southern hemisphere), where there is a 12 hour day and a 12 hour night by watching both sunrise and sunset.
You might also like: 50 free date ideas for couples.
Cheap Spring date ideas
New beginnings can mean new financial goals.
If you're wanting to make dating your spouse a sustainable part of your relationship, you're not going to want to break the bank every time you go out.
These cheap spring date ideas will give you maximum fun on minimum budget.
Find the nearest cherry blossom festival. Not only are the blossoms beautiful, many festivals have other fun activities like tea ceremonies, Japanese food and music and more
Hire a tandem bike and go for a bike ride
Go for the first ice cream of the season. We have an ice cream shop in the closest town that makes a delicious Turkish delight flavor
Visit your local gardening center and buy some new plants for your garden
Grab some friends and challenge them to an egg and spoon race
Unleash your competitive spirit with a game of mini golf
Buy a kite, take it to the park or beach, and fly it
Spring means baby animals – including baby birds! Make it easier on Momma Bird and buy a bird feeder. Then whip up some homemade bird food and pop in in your feeder. Hang it on a tree and watch the birds congregate around it
Go watch a baseball game and snack on popcorn
Spring also means butterflies! Buy some swan plants (also known as African milkweed) and plant them in your garden. Monarch caterpillars love this plant – just make sure you keep the caterpillar population down as it's amazing how much of a plant they can get through!
You might also like: 25 cheap date ideas for couples.
Easter related Spring date ideas
One of the biggest events in Spring would have to be Easter.
You can turn your spring date into an Easter date with these 10 ideas.
Make an Easter egg scavenger hunt for each other
Bake hot cross buns and eat them still warm from the oven
Attend a sunrise Easter service
Have a bake off and make some Easter cookies
Attend a community Easter parade
Try a ring toss with a difference – put on the bunny ears hat from this bunny ears ring toss game and then have a contest to see who can get the most rings on a moving target
Grab some friends and have an egg roll competition (roll the eggs down a hill – prize for the ones who has theirs go the furthest). You could use foil wrapped chocolate eggs or use the decorated eggs mentioned below
Watch an Easter-related movie. I vote for going retro and enjoying Jesus Christ Superstar
In Germany, eggs aren't hidden – instead they are displayed on trees and other places. Try decorating a tree with chocolate eggs while the kids are asleep (or if your kids, like mine, have left home – invite them over for an Easter meal) – and then find and enjoy
Decorate Easter Eggs together – here's some great tips:
You might also like: St Patrick's Day activities for couples.
Food related spring date ideas
I love food. I love making it, I love eating it, and I love experiences around food.
Spring food conjures up images of fresh produce, the beginning of alfresco dining and so much more.
Most dates are enhanced by the addition of food.
So if you're still wondering what to do in Spring for a fun time, then these food related Spring date ideas might be just the thing.
Find an outdoor food market. Your challenge is to eat something you wouldn't normally select
Nothing says spring like picnic. Make your favorite picnic treats, pack up your hamper, and enjoy the sunshine
Make an ice cream sundae or another light dessert (here's some easy dessert ideas for couples)
Have a spring vegetable cooking challenge. Using spring vegetables such as artichoke, asparagus, avocado – or any of these other top 10 spring vegetables – whip up something tasty for each other
Go berry picking – enjoy the fresh new fruit
Celebrate Pi day (on the 14th of March) by baking a delicious pie with that fruit you have picked and then enjoying it outside in the fresh air
Break out the BBQ and get grilling
Cook up some Easter ham and invite the whole family over for a shared meal (here's what to do with that leftover ham)
Try your hand at baking the Italian traditional Easter bread – the Columba Pasquale – or Easter Dove bread.
Go to a farmer's market and stock up on fresh produce.
Why not also have a St Patrick's Day brunch or dinner?
Splurge Spring date ideas
If you'd like to have a spring date that raises the bar, then you'll love these splurge spring date ideas.
While often still connecting with what makes spring so beautiful ( warmer temperatures, fresh breezes, new growth), these ideas will take a bit of planning and coin!
Ever wanted to cruise down the roads in a convertible with the warm wind in your hair? Hire a convertible and make this dream a reality
Hire a cabin for the weekend and get back to nature for a really romantic Spring date
Go to a farm stay and have fun looking at all the baby farm animals – you might even get to bottle feed a baby lamb
Charter a sailboat and head out on the water
If you'd rather have more purpose on the boat, charter a fishing boat instead
Get your body spring ready, with a couples trip to a local spa for an exfoliating body scrub and a mani pedi
Go for a hot air balloon ride at dawn (another Spring date idea high up in the romantic stakes)
Check out these romantic bedroom ideas and update your bedroom's look for a fresh, light, spring feel
Attend a Spring gala for your favorite charity
Head to New York and take in a Broadway show
Spring is the start of a new cycle of growth – and can symbolize the growth in your marriage too!.
Breathe new life into your marriage with these 50 Spring date ideas.