Take some time to intentionally connect with each other with these 75 romantic date night ideas – ranging from things to do at home, on the cheap, or out and about.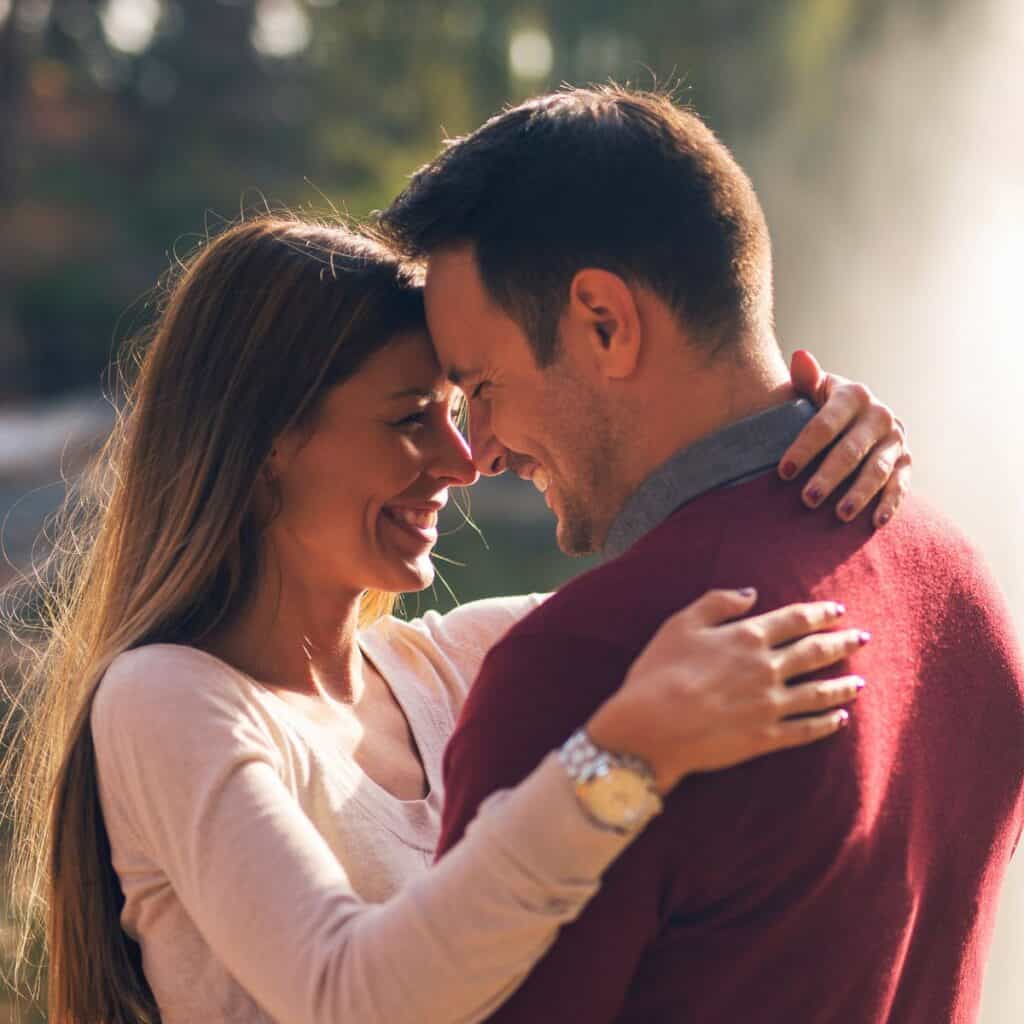 "Romance" is a word that creates a very specific picture in our minds.
For many of us, it may look like a softly-lit restaurant, with candles flickering, music playing in the background and hushed conversation.
It may also look like a walk along the beach at sunset, hand in hand, the wind playing gently in your hair.
The common theme with romance to me is softness, warmth and beauty. It's gentle touches and light kisses, not a rock climb followed by an intense session between the sheets (though all these things have their place).
All dates should involve focused attention on each other but a romantic date will bring back those feelings of being wrapped up in each other.
Here's 75 romantic date ideas that cover romantic dates you can do at home, on the cheap and out and about.
Want greater connection in your relationship?
Then you'll want this freebie.
It's called The KISS Connection and it's a FREE 4-step everyday practice that will bring back that loving feeling.
Hit the pink button to grab your free copy today.
Romantic date night ideas at home
At home date nights should be part of every couple's dating routine. Having at least one of your dates a month at home takes some of the pressure off that comes with planning and organizing those things out of the house dates involve.
And just because your date is taking place in the same location where you do most of your daily living, doesn't mean it can't be super romantic.
Here's 25 romantic date night ideas you can do without leaving the comfort of home.
Cook a romantic meal from this selection of date night dinner recipes
Follow your dinner with a easy romantic dessert for two
Make a campfire in your backyard. Pull up some garden chairs and make s'mores
Have breakfast in bed (try this super easy waffle board)
Turn off the lights, light all the candles and ask each other these romantic questions for couples
Make a fort in your living room and hang out inside their together
Watch some classic romantic comedies such as the ones featured on this list
Look through your wedding album together, talking to each other about the emotions you were feeling at the different stages of the day
Teach yourselves to slow dance using You Tube tutorials. Tip: search for First wedding dance choreography if you want to kick this up a notch.
Watch wedding dances on You Tube
Have a planned power outage – put all the devices away and take the time to connect with each other
Have at at home spa date. You don't need to get super skilled here or be busting out the face masks – my husband is a sucker for a good head massage
Put a warm blanket on the grass, then lie outside together and look at the stars. Do some research beforehand using this constellation guide and look for the patterns
Have story time – decide on a book you'd like to read together and then cuddle up on the couch and take turns reading. Take time after each session to discuss the book so far
Turn a spare room into a "hotel room." Put on fresh sheets, add flowers and even stock your own mini bar. Invite your spouse for a night "away"
Watch a classic film that you've never seen before (think Casablanca, Singing in the Rain and Breakfast at Tiffany's)
Have a mocktail making session and then enjoy drinks sitting outside together
Take your newfound mocktail making skills and make your own signature couple's drink
Have a chocolate tasting session with a twist. Select 5-10 different chocolates making sure you have two of each. Know the different types and then, wearing a blindfold, taste each one and guess what flavor it is
Find 10 items around the house that have significance to you as a couple. Reveal them one at a time to each other, talking about why you selected it
Get your spouse to buy some special lingerie and then have him put it on the bed while you shower. Then dress up for him. (For more ideas like this, read this post)
Wake up, make a delicious pot of coffee, and then watch the sunrise together before talking about your dreams for the day
Jump in the bath together. Bonus points if you add essential oil and candlelight
Plan your second honeymoon. Think about all the places you'd like to visit together and research them
Make a list of "reasons why," then give them to each other. Reasons why could include:
why I love you
why you turn me on
why I love being your wife
why I appreciate you
why I always want to be with you
Cheap romantic date ideas
Free or cheap date nights are some of my favorite things to do because they force you to be creative and try ideas you might not have thought about before.
I aim for at least 1 or 4, sometimes even 1 out of every 2 dates to be free or on the inexpensive side. This also helps reinforce the idea that not everything worthwhile in life costs money.
Go on a picnic together. You can have morning, lunch, or night picnics. Try these picnic foods for two when planning your menu
Play tourist in your own town by visiting at least one attraction that you've never been to
Make a bonfire on the beach and listen to the waves crashing on the sand
Take a hike to a local waterfall
Find romantic quotes and share them with each other
Go to an op shop and buy each other a gift that has meaning – the more obscure the better!
Visit the local botanical garden, taking time to explore all it has to offer
Write out a plan of your dream romantic date and give it to each other
Go roller skating or ice skating
Drive to your local make out point and jump in the back seat
Check out the place with the best view in town
Write each other a love letter, including from when you met to the highlights of your life together so far
Make a bucket list of all the romantic dates you want to take together in your lifetime
Find a local poetry reading and go listen
Write a romantic poem or song about each other (the cheesier the better)
Depending on the season, check out the cherry blossoms or go on a Fall foliage drive
Check out your local paper or Facebook page and find a free concert – preferably one in the evening
Make each other a customized romantic Spotify playlist. Select songs whose words have special meaning to you. Listen to them closely and then explain to each other why you selected them
Hire a tandem bike
Head to a local beach and watch the sunset together
Visit an art gallery and kiss in all the empty rooms
Buy 2 copies of a book you've both wanted to read and create your own mini book club
Drive with no destination in mind (maybe listening to the playlists you created for no 14!)
Buy a tree that represents your love and plant it. Go super cheesy and maybe bury some of those cute notes you wrote for each other in no 25 above at the bottom of the hole
Go to your personal romantic spot (for us, it was a bench in a park we used to sit on when taking the dogs for a walk). Take along a thermos of coffee or hot chocolate. Reminisce about times gone by and then dream about the future
Romantic date night ideas
Recreate your first date from the beginning to the end
Enroll in ballroom dance classes
Go to a drive in movie (or if you can't do that, set up a movie theatre in your own backyard)
Take a dinner cruise
Go horseback riding (though being traumatized by horses, I have to say I wouldn't find this that romantic. However, this isn't all about me…)
Visit a psychic together
Hire a romantic cottage or cabin for the weekend
Go on a Ferris wheel (even better if it's night time). Kiss every time you get to the top
Go to the ballet
Have a progressive dinner at your favorite restaurants
Have a couple's massage
Go out for dinner and order for each other
Visit a tea room (here's America's best tea rooms)
Go on a hot air balloon ride
Take a ride in a limo or a horse drawn carriage
Go shopping with a predetermined amount of money and buy each other a surprise romantic gift
Buy a piece of art and hang it in your bedroom
Take that plan your loved one wrote for you in no 8 of cheap romantic date ideas and do it
Visit your nearest small town and spend the day there exploring the shops and local cafes
Take a scenic train ride
If possible, go to dinner where you had your wedding reception
Go cheese tasting. Buy your favorite cheeses to take home with you so you can savor and remember
Take a cooking class together in a traditionally "romantic" cuisine such as French or Italian
Go out for dinner at the most expensive restaurant in town that requires you to get glammed up
Book into that hotel you've always wanted to stay the night in and order room service
We can have fun, adventure and excitement with family members and friends. However romance is something special and unique to our relationship with our partners.
if romance is lacking, or you simply want an extra dollop of its sweet goodness, then try one of these 75 romantic date night ideas this very weekend.
You might also like: Date night ideas for couples.