These struggling marriage quotes serve to remind you that love isn't always simple and easy, but nothing simple and easy was ever worth much anyway!
You'd be hard pressed to find any couple who have been together a decent chunk of time who haven't experienced a struggling marriage season or two.
Whether it's because you're dealing with waning appreciation born from simply knowing each other too well, or those character traits that seemed so charming when you first met now seem like glaring flaws, your marriage can go through times when it's much more pain than pleasure.
But for the vast majority of us, these times a short. And if we're honest, more often they're reflective of where we are at than any major falling out of love.
So here's a collection of quotes about getting through hard times in a relationship that will inspire you, encourage you, and remind you of the joy that comes through overcoming those relationship problems.
Want greater connection in your relationship?
Then you'll want this freebie.
It's called The KISS Connection and it's a FREE 4-step everyday practice that will bring back that loving feeling.
Hit the pink button to grab your free copy today.
These quotes can remind you about the true nature of marriage – and are all the more inspirational for being rooted in reality.
After all, more than anything else, love is a choice we make and an action we take.
You might also like: 10 must have habits for a happy marriage.
Inspiring marriage quotes for when times are hard
A good marriage is one which allows for change and growth in the individuals and in the way they express their love.― Pearl Buck
When you fall in love, it is a temporary madness. It erupts like an earthquake, and then it subsides. And when it subsides, you have to make a decision. You have to work out whether your roots are to become so entwined together that it is inconceivable that you should ever part. Because this is what love is.
Love is not breathlessness, it is not excitement, it is not the desire to mate every second of the day. It is not lying awake at night imagining that he is kissing every part of your body.
No … don't blush. I am telling you some truths. For that is just being in love; which any of us can convince ourselves we are. Love itself is what is left over, when being in love has burned away. Doesn't sound very exciting, does it? But it is! ―Louis de Bernieres
But they love each other. Isn't that what love means? That you're supposed to be there for the other person to turn to, no matter what? ― Cassandra Clare
Let there be spaces in your togetherness, And let the winds of the heavens dance between you.
Love one another but make not a bond of love:
Let it rather be a moving sea between the shores of your souls.
Fill each other's cup but drink not from one cup.
Give one another of your bread but eat not from the same loaf.
Sing and dance together and be joyous, but let each one of you be alone,
Even as the strings of a lute are alone though they quiver with the same music.
Give your hearts, but not into each other's keeping.
For only the hand of Life can contain your hearts.
And stand together, yet not too near together:
For the pillars of the temple stand apart,
And the oak tree and the cypress grow not in each other's shadow.― Khalil Gibran
Want fun conversation on your next date night?
Then you'll want this freebie.
Wondering what to talk about on your next date night that's not work, kids or finances?
Grab your free printable question cards now for fun conversation guaranteed.
Hit the pink button to grab your free copy today.
Love does not consist of gazing at each other, but in looking outward together in the same direction.― Antoine de Saint-Exupery
People always fall in love with the most perfect aspects of each other's personalities. Who wouldn't? Anybody can love the most wonderful parts of another person. But that's not the clever trick. The really clever trick is this: Can you accept the flaws? Can you look at your partner's faults honestly and say, 'I can work around that. I can make something out of it.'? Because the good stuff is always going to be there, and it's always going to pretty and sparkly, but the crap underneath can ruin you.
― Elizabeth Gilbert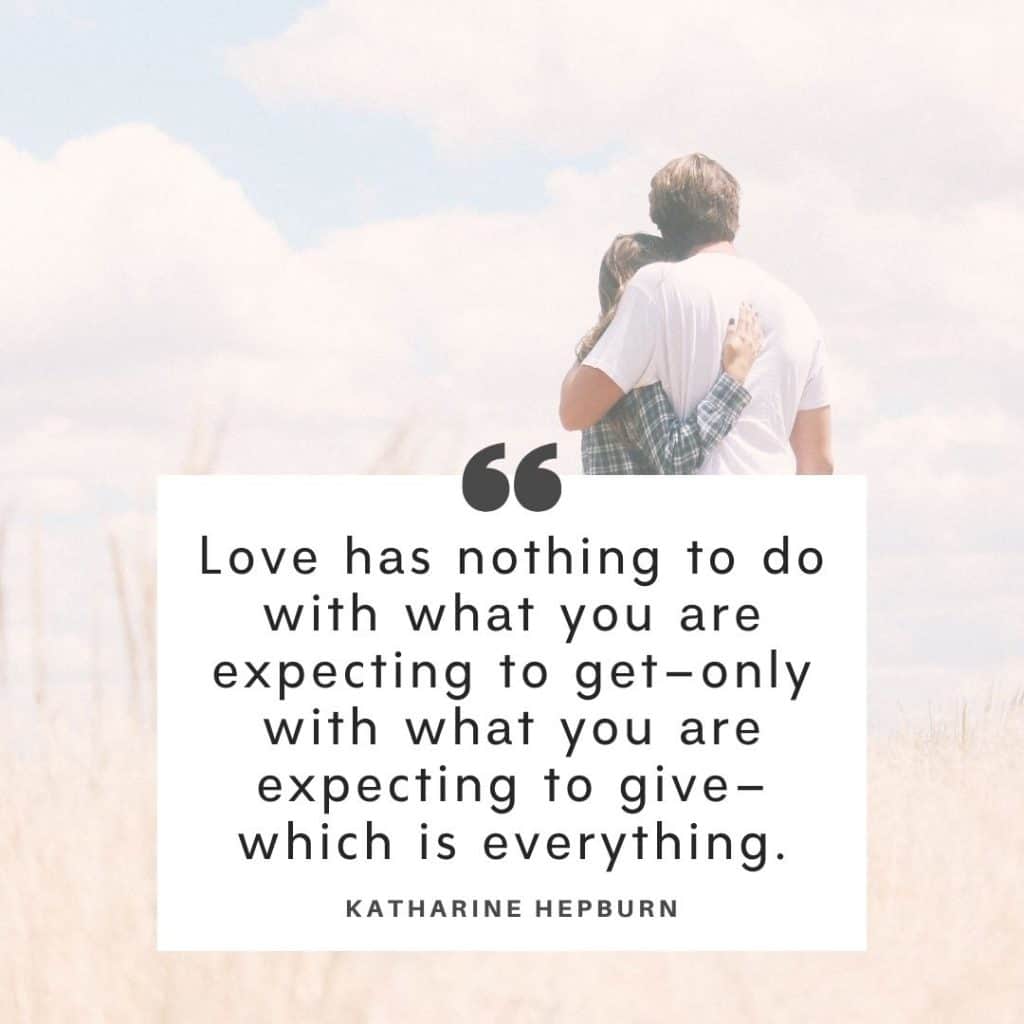 Love has nothing to do with what you are expecting to get–only with what you are expecting to give–which is everything.― Katharine Hepburn
Marriage is those two thousand indistinguishable conversations, chatted over two thousand indistinguishable breakfasts, where intimacy turns like a slow wheel. How do you measure the worth of becoming that familiar to somebody—so utterly well known and so thoroughly ever-present that you become an almost invisible necessity, like air?― Elizabeth Gilbert
You might also like: Marriage counseling tips: An intro to couple's therapy.
Two people can only live as one when each is prepared to give and receive trust and understanding. Above that lies respect. Without respect for how the other feels, no marriage is worthwhile.― Helen Hollick
I believe in love. I believe in hard times and love winning. I believe marriage is hard. I believe people make mistakes. I believe people can want two things at once. I believe people are selfish and generous at the same time. I believe very few people want to hurt others. I believe that you can be surprised by life. I believe in happy endings.― Isabel Gillies
The only way love can last a lifetime is if it's unconditional. The truth is this: love is not determined by the one being loved but rather by the one choosing to love.― Stephen Kendrick
The remedy for most marital stress is not in divorce. It is in repentance and forgiveness, in sincere expressions of charity and service. It is not in separation. It is in simple integrity that leads a man and a woman to square up their shoulders and meet their obligations. It is found in the Golden Rule, a time-honored principle that should first and foremost find expression in marriage.― Gordon B. Hinckley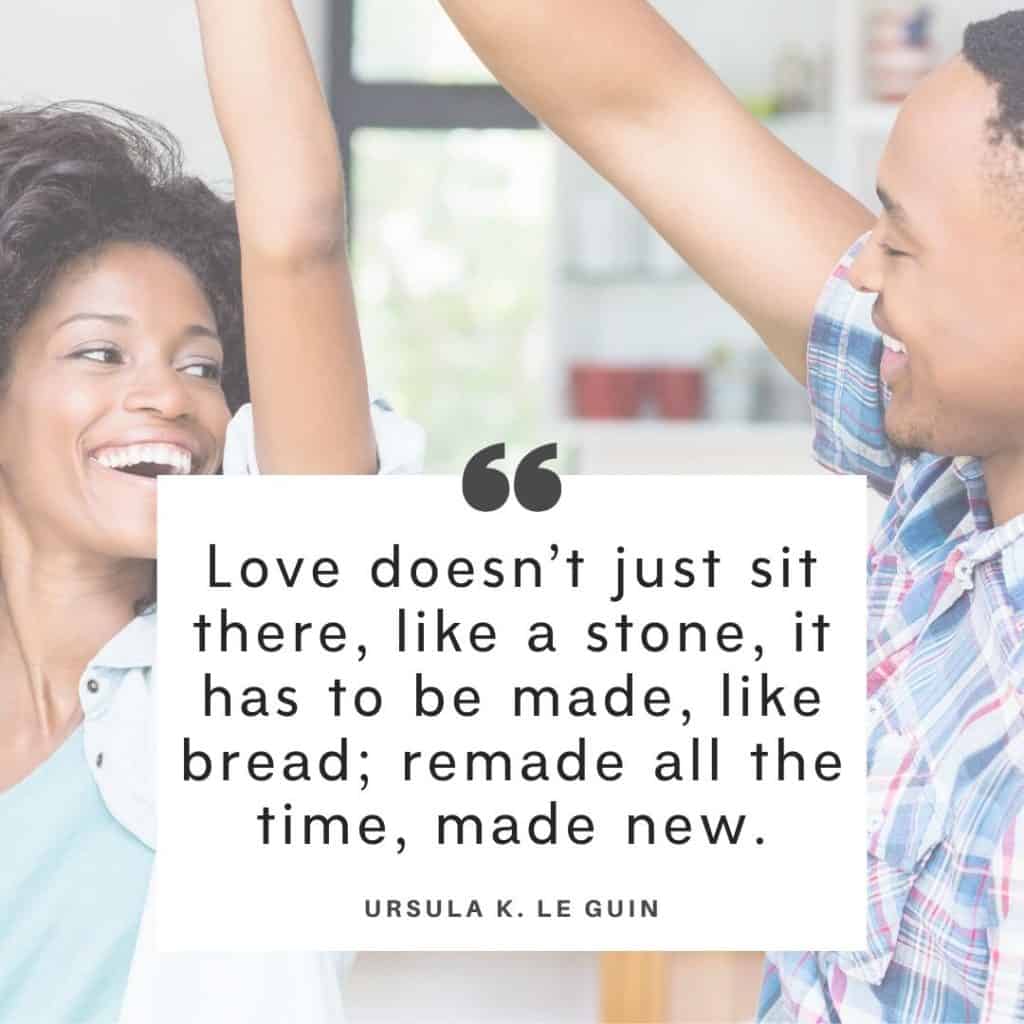 Love doesn't just sit there, like a stone, it has to be made, like bread; remade all the time, made new.― Ursula K. Le Guin
A good marriage is where both people feel like they're getting the better end of the deal.― Anne Lamott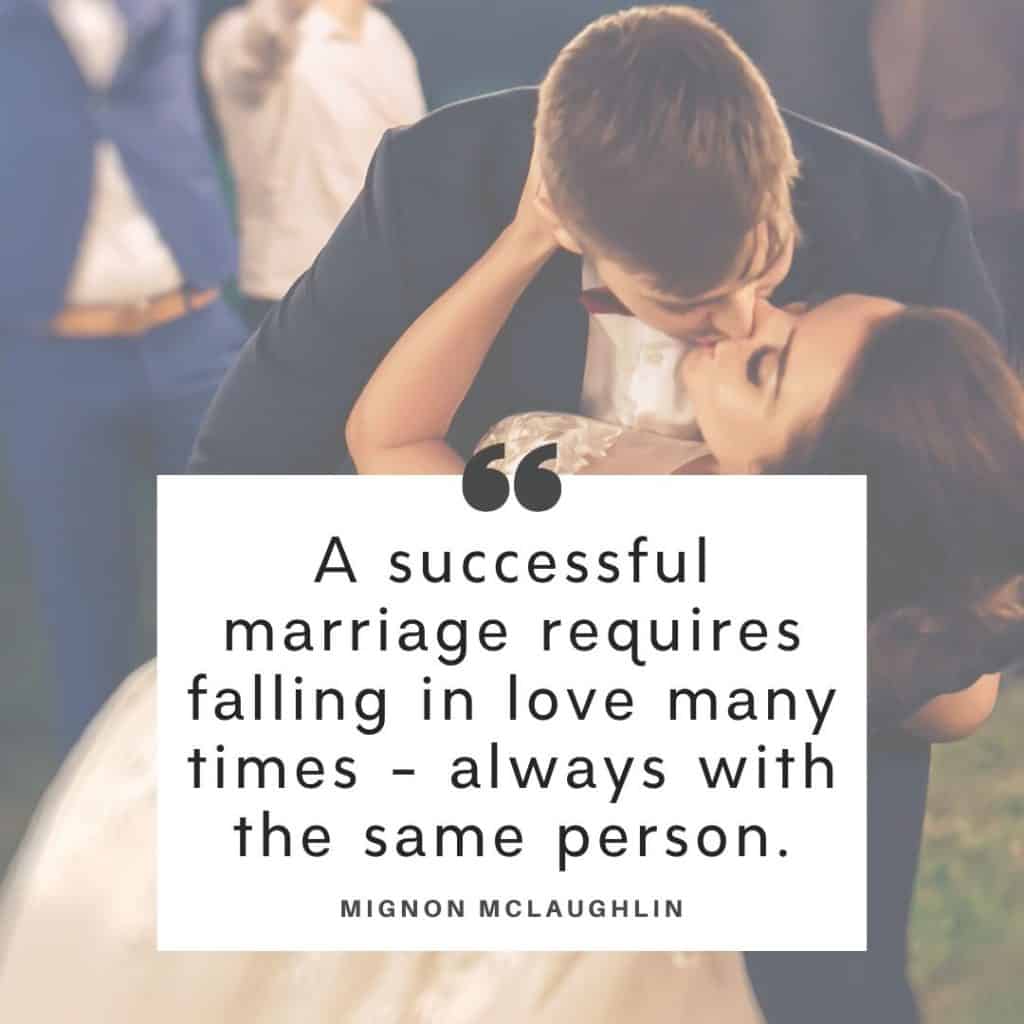 A successful marriage requires falling in love many times – always with the same person.― Mignon McLaughlin
It was finally becoming clear to her that love wasn't about finding someone perfect to marry. Love was about seeing through to the truth of a person, and accepting all their shades of light and dark. Love was an ability.― Lisa Kleypas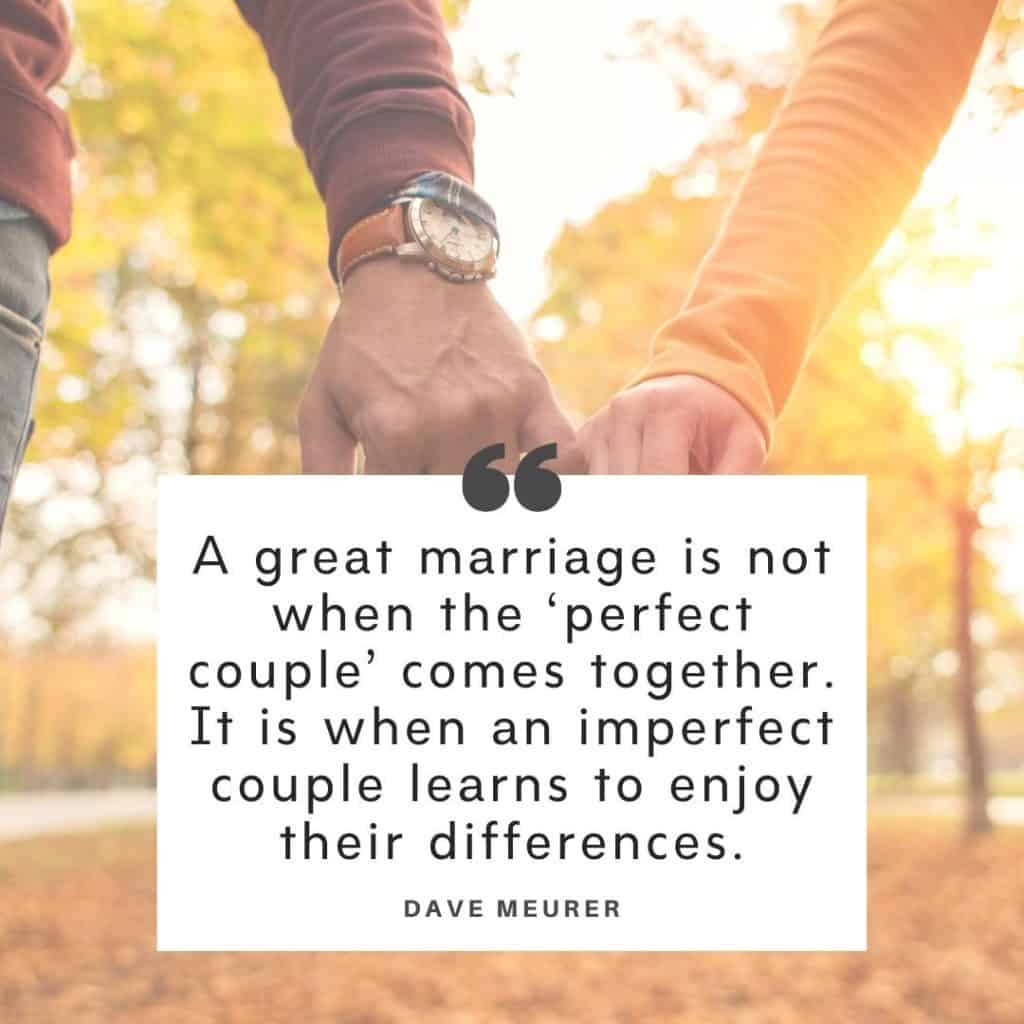 A great marriage is not when the 'perfect couple' comes together. It is when an imperfect couple learns to enjoy their differences.― Dave Meurer
Until now, you have always lived your life alone. Every decision you've made has been for you and you alone. Now, and for the rest of your days, your life will be tied to another's. Every decision you make will be for both of you. What one does affects the other. You are a family, a team … inseparable and unbreakable.― Richelle Mead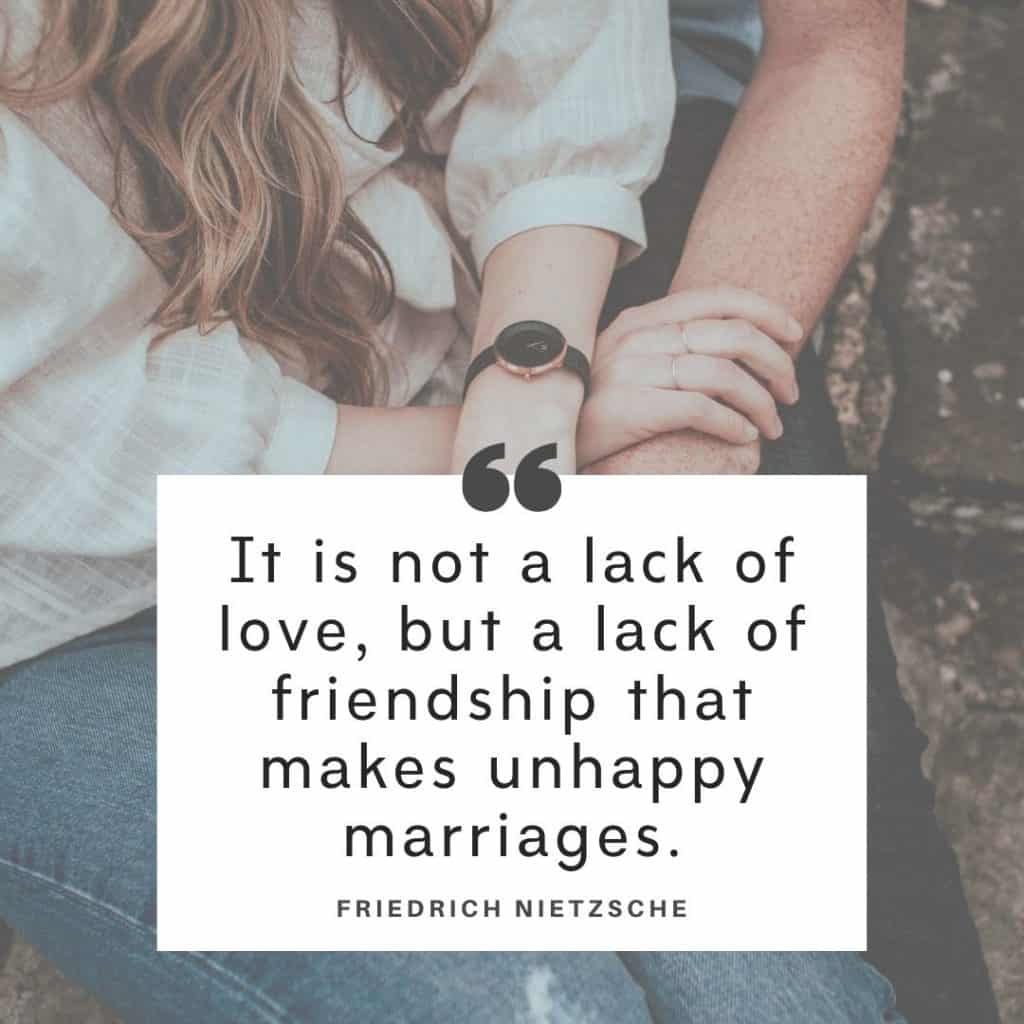 It is not a lack of love, but a lack of friendship that makes unhappy marriages.― Friedrich Nietzsche
In any relationship, there will be frightening spells in which your feelings of love dry up. And when that happens you must remember that the essence of marriage is that it is a covenant, a commitment, a promise of future love.
So what do you do? You do the acts of love, despite your lack of feeling. You may not feel tender, sympathetic, and eager to please, but in your actions you must BE tender, understanding, forgiving and helpful.
And, if you do that, as time goes on you will not only get through the dry spells, but they will become less frequent and deep, and you will become more constant in your feelings. This is what can happen if you decide to love.― Timothy Keller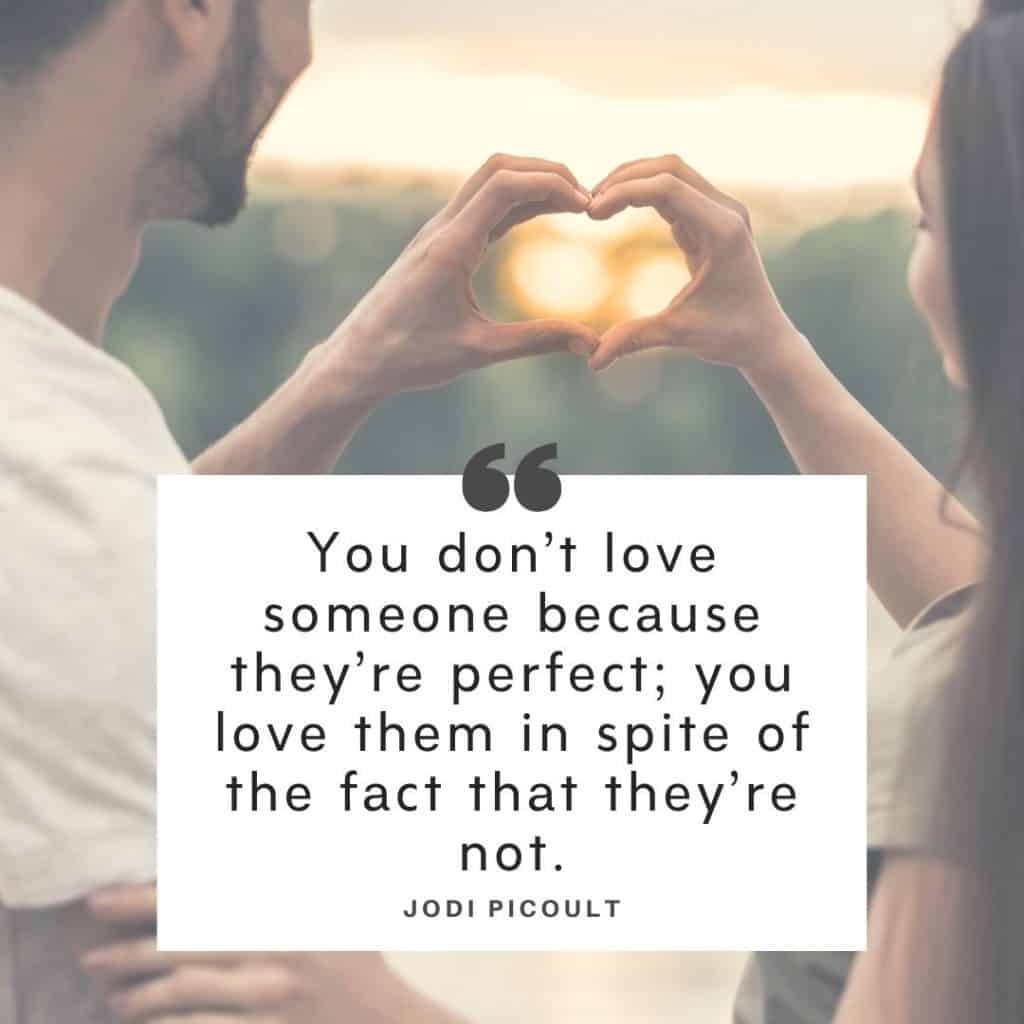 You don't love someone because they're perfect; you love them in spite of the fact that they're not.― Jodi Picoult
Maybe you expected marriage to be perfect – I guess that's where you and I are different. See, I thought it would be all about making mistakes, but doing it with someone who's there to remind you what you learned along the way.― Jodi Picoult
Love me when I least deserve it, because that's when I really need it. ― Swedish proverb
When we love someone our love becomes demonstrable or real only through our exertion – through the fact that for that someone (or for ourselves) we take an extra step or walk an extra mile. Love is not effortless. To the contrary, love is effortful.― M. Scott Peck
Marriage is about compromise; it's about doing something for the other person, even when you don't want to.― Nicholas Sparks
And everyone is always saying that marriage is really hard and takes a lot of work. But the thing is, when you know that you love someone, those things don't matter. You have to push all the everyday things and the outside world away, and just enjoy knowing that this is the man who has the chest your head is meant to lie on.― Erin McCarthy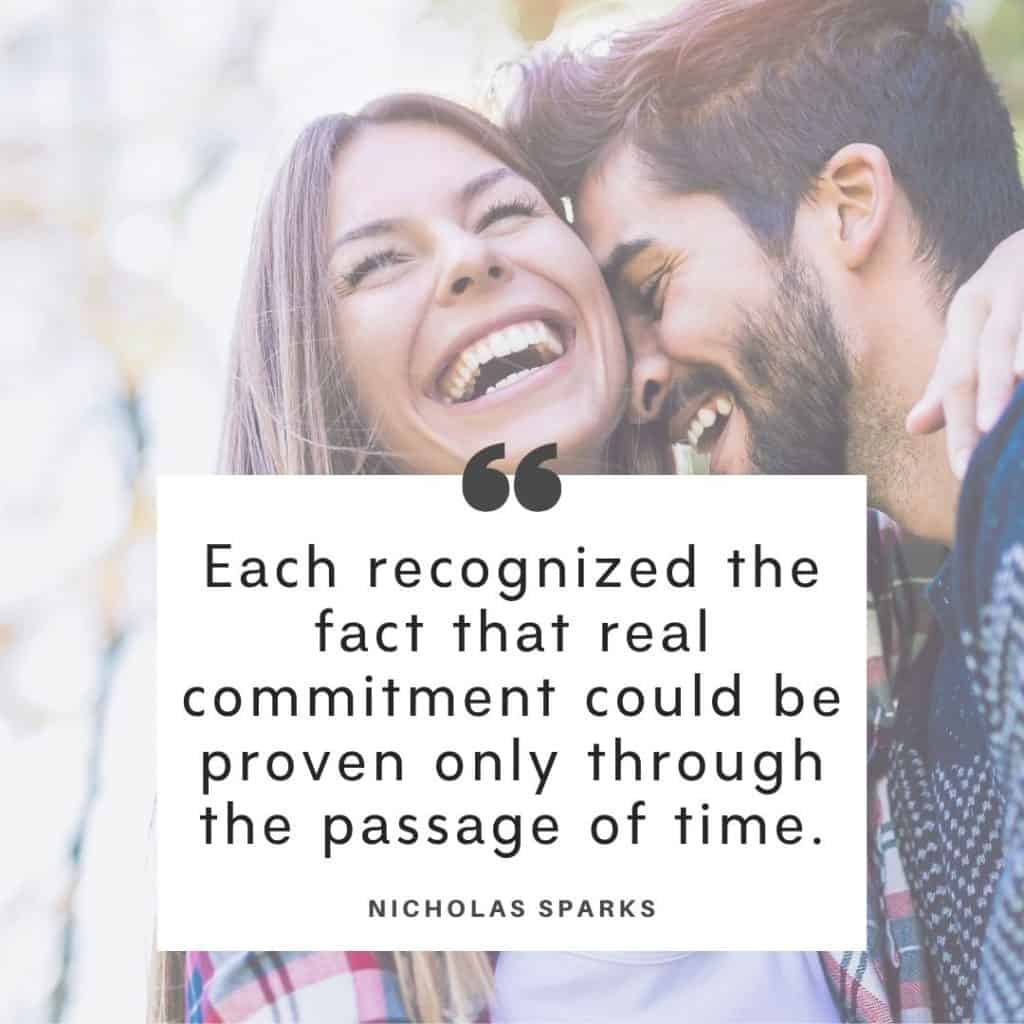 Each recognized the fact that real commitment could be proven only through the passage of time.― Nicholas Sparks
No long-term marriage is made easily, and there have been times when I've been so angry or so hurt that I thought my love would never recover. And then, in the midst of near despair, something has happened beneath the surface. A bright little flashing fish of hope has flicked silver fins and the water is bright and suddenly I am returned to a state of love again — till next time.
I've learned that there will always be a next time, and that I will submerge in darkness and misery, but that I won't stay submerged. And each time something has been learned under the waters; something has been gained; and a new kind of love has grown.
The best I can ask for is that this love, which has been built on countless failures, will continue to grow. I can say no more than that this is mystery, and gift, and that somehow or other, through grace, our failures can be redeemed and blessed.― Madeleine L'Engle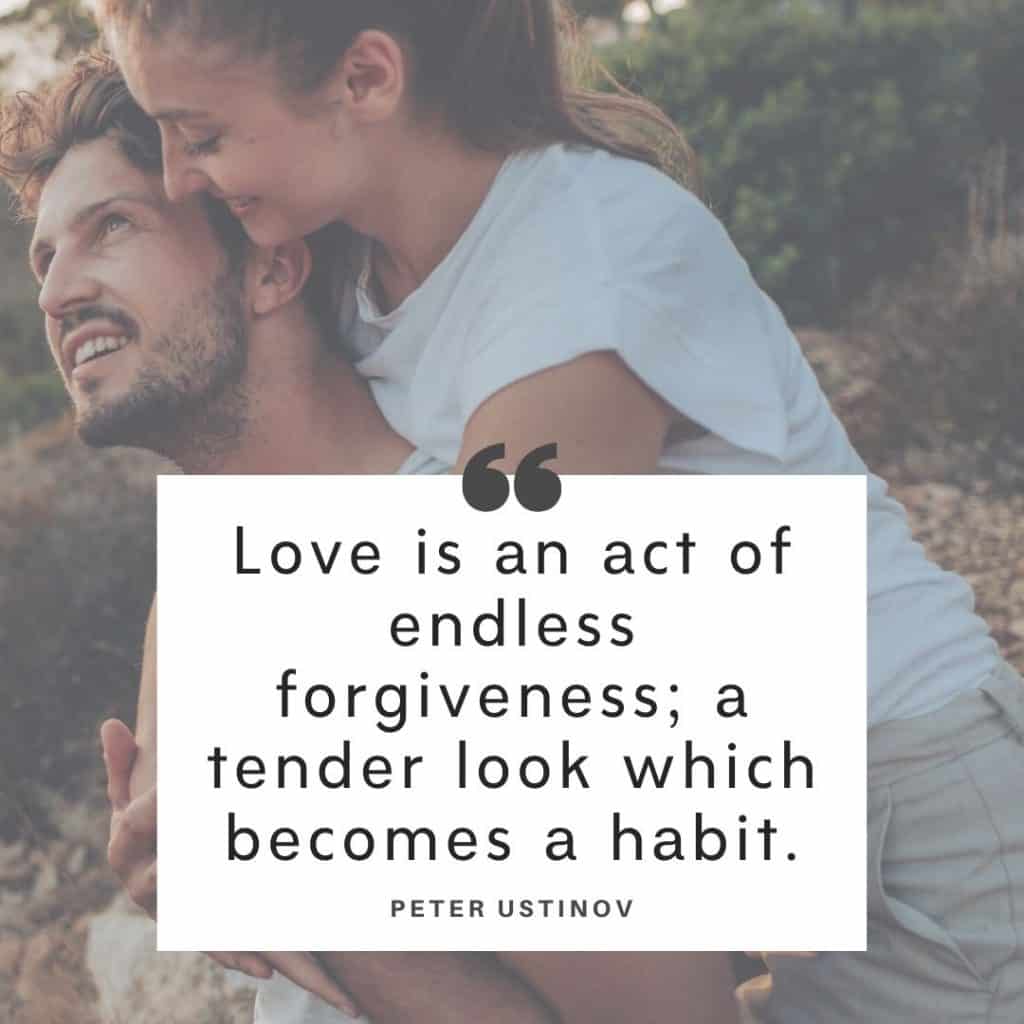 Love is an act of endless forgiveness; a tender look which becomes a habit.― Peter Ustinov
You might also like: How to stop tiredness affecting your marriage.
SUMMING UP THESE STRUGGLING MARRIAGE QUOTES
When marriage is hard, it can be tempting to let yourself indulge in negative thinking.
These struggling marriage quotes serve to remind you that love isn't always simple and easy, but not much simple and easy was ever worth much anyway!
The art to real love is to keep showing up. Keep acting in a loving manner.
As the final quote by Mary Chapin Carpenter says, grow old with me, the best is yet to be!
What was your favorite of all the struggling marriage quotes? Let me know in the comments!
Want greater connection in your relationship?
Then you'll want this freebie.
It's called The KISS Connection and it's a FREE 4-step everyday practice that will bring back that loving feeling.
Hit the pink button to grab your free copy today.