A wedding ring is a tangible sign of your marriage, of your commitment to another person. These wedding ring quotes are perfect to use in your vows, in a caption, or simply to get all the feels.
A wedding ring symbolizes eternal love and commitment (source). Exchanged on their wedding day, your rings often mark an important part of your wedding ceremony and afterwards serve as an external sign to the world that you are married.
I know my wedding ring is the most precious piece of jewelry I own.
Wedding ring quotes serve several purposes. You could choose to use any of these in your ceremony or on the program. You can use them as a caption for our favorite image of your rings, or even have the shorter quotes engraved on the inside of the band.
(They could also work with these wedding wishes for your son and daughter in law).
They also give you all the feels about your marriage too – at least that was my experience when collating these!
You won't find any jokes about wedding rings and suffering either in this collection of 25 wedding ring quotes. Marriage done right is a beautiful thing.
Wedding ring quotes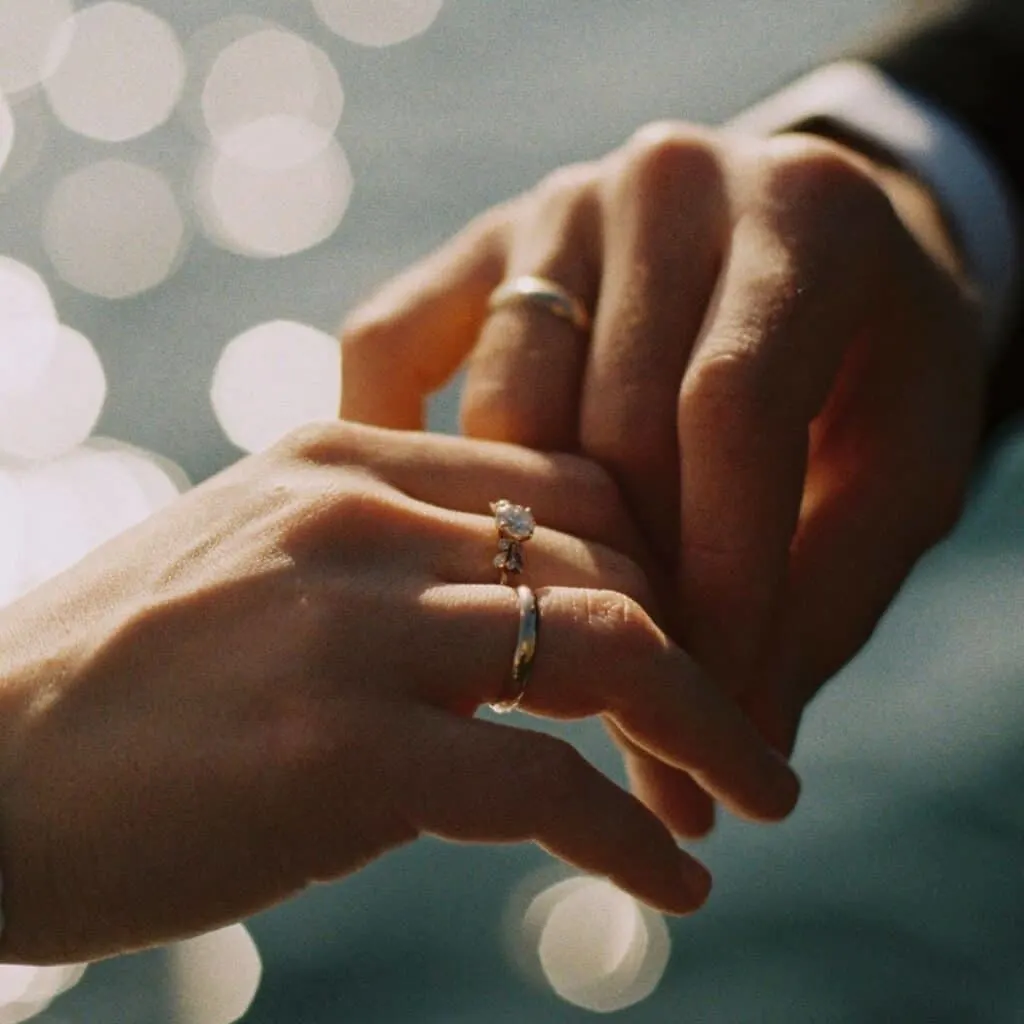 All weddings… It never changes, when the groom lifts the veil, when the bride accepts the ring, the possibilities you see in their eyes, it's the same around the world. They truly believe their love and their marriage is going to break all records. – Mitch Albom
In marriage there are no manners to keep up, and beneath the wildest accusations no real criticism. Each is familiar with that ancient child in the other who may erupt again. We are not ridiculous to ourselves. We are ageless. That is the luxury of the wedding ring. – Enid Bagnold
It's like my whole life my left ring finger has been lacking something, and finally it feels complete. – Anna Bell
With this ring, I thee wed, with my body I thee worship, and with all my worldly goods, I thee endow. – Book of Common Prayer
(You might also like these Christian marriage quotes from the Bible).
I always wear my wedding ring – it's my trademark. – Ljupka Cvetanova
I want you to take a good look at this ring. This ring has nothing to do with the wedding, nothing to do with our commitments, none of that. This ring means one thing. That I love you. Promise me that no matter what, no matter if we fight, no matter how hopeless things may feel, that you will look at this ring and know that when you love someone, that's all that really matters. That we'll always figure it out together.- Jillian Dodd
I've always thought there was something so incredibly sexy about a wedding ring on a man's finger. It tells the world he has pledged himself to someone and isn't afraid to say so. Everyone you meet will know you're taken. I like that. – Marie Force
Marriage is the golden ring in a chain whose beginning is a glance and whose ending is eternity. – Khalil Gibran
It was the most traditional wedding ring in the world. It reeked of stability and fiftieth wedding anniversaries. It proclaimed itself to the world as the rock upon which vows were never broken. It was a testament of his love. Proof of his commitment. – Tara Janzen
Love is as pure and as sacred as a wedding ring, so if I say, "I do" then it's loyalty over everything." – LaTruth Hampton
I never knew how sexy a wedding ring was on a man until it was my ring, until I put it there. – Taylor Jenkins Reid
Every night, after a tough day, they'd put their hands together in bed so that their rings touched, and they'd repeat their wedding vows to each other. – Chip Heath
Give me a wedding ring, and I can conquer the whole world. – Amit Kalantri
I didn't want a fancy engagement ring or a gaudy wedding band; for me, a plain wedding ring was a perfect symbol. I like simple, especially in a wedding ring: it reminds you that love is about love, nothing else–not money, not appearances, not showing off. – Taya Kyle
Wedding rings are a symbol of love, unity, a bond between two people. It's a label, a sign, a warning of some sort. – Nako
He looked at his wedding ring, twirled it around once or twice with his thumb. What pleasure it gave him to touch it, as though it were some sort of cult object, invested with magic powers, always near at hand, like a friendly spirit. – Donna Leon
A wedding ring is a symbol of commitment; a promise, a pledge, and a vow. The promise is to forsake all others, to stay devoted and true; the pledge is to honor that promise selflessly, to see the whole thing through; and the vow is to keep that pledge unwaveringly, until the days are few. It is a mutual agreement to become one instead of two. – J.W. Lord
Time for things like wedding rings. – Geert Mak
I know this… that above all, as I stand here, your wedding ring in my hand, that this moment in time makes me remember how very complete you make my life. – Ashlee North
To see my ring on my wife's finger, it meant something. To wear hers on mine, it meant even more. – Nalini Singh
It came as a surprise to us, as I suspect it does to many, that marriage changed us. We'd felt as though we'd always had those rings, wrapped about our fingers, like the scraggly garlands of those first, revelatory conversations. But those real rings, wooden as they were, began to set their roots, and that settling, the calming feeling of having been planted into the same plot to flourish, was a relief from that once-nagging question of loneliness. No matter what happened now, even if we'd found ourselves lonelier than we'd ever been, we'd know that that plot of land was our own to cultivate. Each moment was now a dual-moment, each of our lives a dual-life. The open road, that atlas, the open-faced moon and that wine were the first conscious recognitions of our floating life. One that perhaps we'd have created on our own, but now no longer had to. – Megan Rich
A circle has no end, no beginning, and can hold within itself all the love and devotion shared between mates. Let the rings you exchange now guide you in your life together and show you the way to everlasting love. – Stacie Simpson
On your wedding day, the rings that you are exchanging are what you will take with you. The flowers will wilt, and the reception will end, but your wedding ring will be there to remind you day after day that you are loved, that you have been chosen. – Unknown
A wedding ring is no a piece of jewelry; it's the trademark of a relationship – Colby Truce
These wedding ring quotes express the power and beauty of the wedding ring. If you enjoyed reading these quotes, you might also like these love quotes and messages.