Searching for ideas for Fourth of July? From breakfast to bedtime, you'll find a great range of Fourth of July ideas for couples that also include special times with family and friends!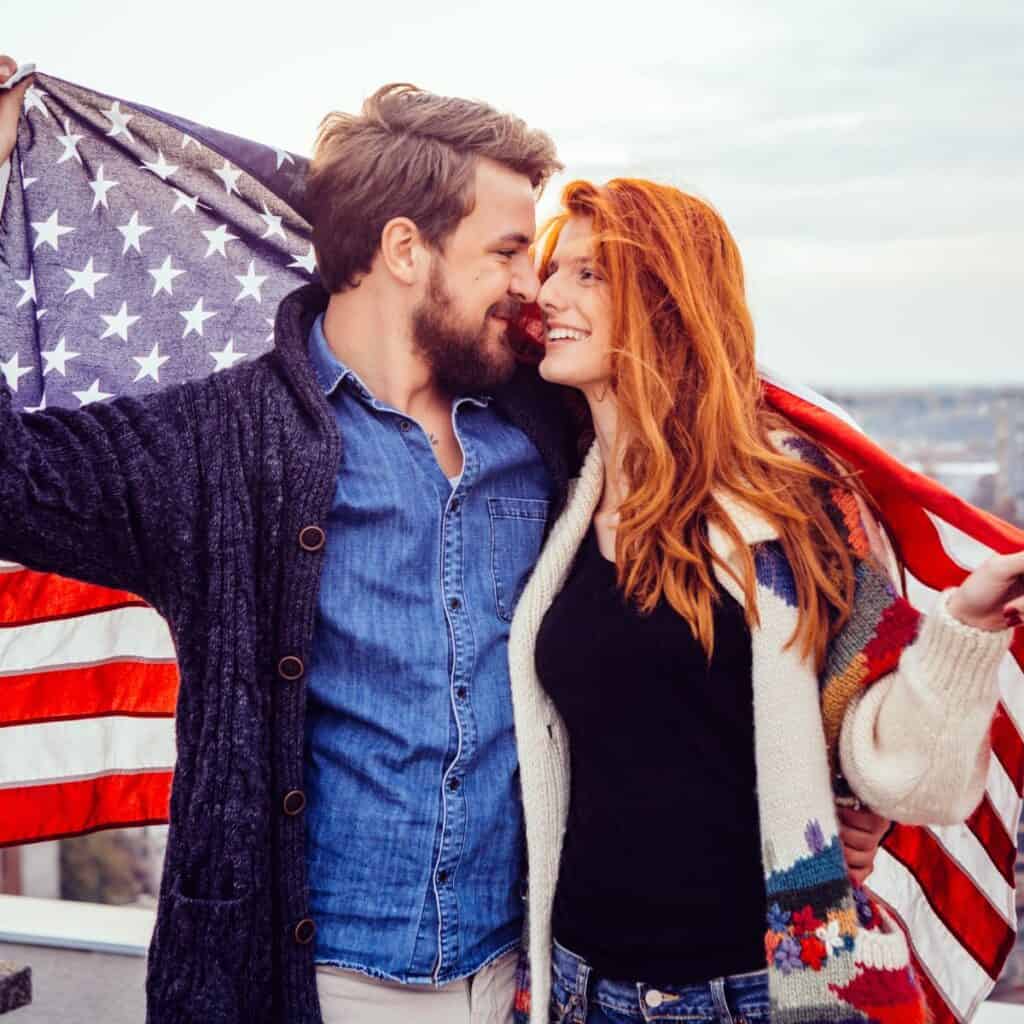 There's something about summer that conjures up feelings of fun and freedom. And what day in summer could represent fun and freedom more than the Fourth of July?
It's a day to come together and celebrate, a day to relax and reflect. So if you've been asking, "What are fun things to do on 4th of July?" then check out these Fourth of July ideas for couples, with a healthy dash of friends, family and community in the mix!
Want greater connection in your relationship?
Then you'll want this freebie.
It's called The KISS Connection and it's a FREE 4-step everyday practice that will bring back that loving feeling.
Hit the pink button to grab your free copy today.
This post contains affiliate links. If you click on one of these links and make a purchase, I receive a small commission at no cost to you. Click here for my full disclosure policy.
Raise a flag
Ceremonies are powerful. They help to create meaning and memories.
One super special Fourth of July idea for couples is to mark the day with a flag raising ceremony.
If your own home has a flag, make it an occasion and invite family and friends to share in the ceremony with you.
Just remember these key tips for Fourth of July flag etiquette:
raise it with briskness and confidence.
be careful not to let it touch the ground.
ensure that the flag is only raised between sunrise and sunset, unless you can light it in some way
These and other tips can be found over at 8 tips for properly displaying the American Flag.
Alternatively, go to a local flag raising ceremony. You'll find them in your community Facebook pages or local newspaper.
Cook a pancake breakfast
Once you've raised the flag, then it's time to eat, and what better than a pancake breakfast?
However if you're not so much of a pancake fan, you can other delicious 4th of July breakfast ideas here, including this easy waffle board. Featuring strawberries, blueberries and cream, it makes for the perfect patriotic breakfast.
Raise a 4th of July sweat
What you didn't think you could eat those pancakes and lounge around in your comfy pants for the rest of the day, did you? Plenty of towns mark the 4th with a fun run.
And there's much to be said for this idea: exercise gets those endorphins going and is instant stress relief.
In addition, running a race creates a feeling of community. Running may never have crossed your radar as the ideal Fourth of July date, but having trained for and completed a half marathon with my husband, I can say that doing something like this creates an incredible feeling of achievement as a couple.
We crossed the finish line hand in hand and it's a moment I will never forget.
If you can't persuade the family to join you, then at least they can make their way to the end of the race!
A side note – Just do time it right so that if you are running after that pancake breakfast, you give yourself enough time to digest – or choose the parfait.
I generally need a good two to four hours if I don't want to get cramps, reflux and other unattractive things going on.
Now you're probably wanting to scale things down a notch and relax.
Any one of the following 4th of July date ideas will see you into the afternoon.
Live some history
The Fourth is more than a fun holiday – it marks one of the most significant days in America's history.
Take the opportunity to educate yourself a little on the past by taking a trip to local museum.
If the spirit of adventure moves you more, then go on a road trip for local areas of historical significance.
They don't have to be connected with the Fourth, merely to connect you with the past. Planning your history road trip contains some links to some great websites featuring a diverse range of historical destinations.
If shopping is more your thing, then how about going to a flea market or antique market in your neighborhood?
Indulge in a movie marathon
If you'd rather just head home with your honey, then a movie marathon with an Independence Day theme might be in order.
Try some of the classics like Independence Day or Lincoln.
If they seem too heavy for this beautiful summer's day then consider going watching some classic feel good movies that are American to the core – like Top Gun, and Top Gun: Maverick (the latter of which is my absolute fave movie of 2022 so it totally deserves a plug here!).
Set up an outdoor movie theater and enjoy the movies outside.
Host a 4th of July cookout
After all that you're probably getting rather hungry. That's okay – we have something for that!
Out of all the ideas for the Fourth of July, this one is probably my favorite.
Time to come together with family and friends once more with a Fourth of July cookout!
Whip up some patriotic desserts or one of these red, white and blue trifles for a sweet treat to follow.
Make sure you have the decorations to match to create a Fourth of July theme.
4th of July decorations
Get into the spirit of Independence Day with these 4th of July decorations: from red, white and blue themed decor to stars and stripes.
So that everyone has fun at your barbecue, plan some games with a special Fourth of July theme.
Fourth of July games for adults
Fun Fourth of July games for adults include:
having an American history trivia contest
playing baseball
staging a costume competition (check out these costume ideas)
guessing the number of red, white and blue candies
pinning stars and stripes on a flag
baking patriotic cookies for a cookie contest
having a scavenger hunt
playing ring toss with red, white and blue rings
throwing darts at red, white and blue balloons
Kids can play some of these games too, especially if you run children's and adults' versions.
Watch some fireworks
Now that it's getting dark, it's time to enjoy the fireworks.
There's something super romantic about watching fireworks with your honey.
Write messages to each other with sparklers.
Once you've had fun in the backyard with sparklers, it's time to jump in the car and head of to a local fireworks display.
Make fireworks of a different kind
Once those fireworks are over, it's time to go home.
And what collection of ideas would be complete without some fireworks of a different kind between the sheets?
Summing up
The Fourth of July is a super special holiday.
Celebrate it with any or all of these 4th of July ideas.
Start it off right with the flag being raised.
Then cook up a pancake breakfast to share with family and friends.
After that try a fun run to exercise and get connected with your community at the same time.
Then it's time to rest by taking in some local history or simply heading home to binge watch some movies.
Connect with family again with a shared BBQ before heading off to watch the fireworks.
Your perfect Independence Day ends with some fireworks of a different kind!